We Take Care makes buying and renting medical equipment easy and accessible to you at your doorstep, as it has never been before. We offer an extensive variety of equipment for purchase and rent. The equipment are available at the best price for functioning on the basis of one's need and requirement. Having maintained a well-spread network of our team we ensure timely delivery of urgent and bulk orders within the least time frame.
We deal in equipment for patients suffering from all kinds of health conditions. We have a dedicated patient care team as inaccurate equipment can affect a patient's health and progress. Hence we keep our services up to the mark which in turn provides progress and peace to the patient and the attendant as well. We provide services for both acute and chronic medical conditions.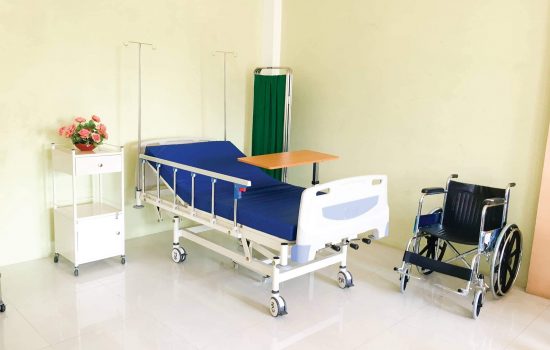 Physiotherapy equipment is also provided in order to relieve pain and restore the functioning of daily activities.
The equipment is provided for different conditions like:
➤ Respiratory Care: Different range of respiratory devices like advanced homecare ventilators, BI-PAP, C-PAP, oxygen concentrator; pulse oximeter, nebulizer, suction apparatus, etc. which helps people during need towards regaining well-being and good health.
➤ Geriatric Care: Equipment of geriatric care includes air mattresses, wheelchairs, mobility aids like walkers, walking sticks,s, etc. These help one to regain mobility after an injury or surgery and also assist the elderly or other people in need with basic activity.
➤ Orthopedic Care: Post orthopedic surgeries require a wide range of orthopedic and physiotherapy equipment like CPM machine, lymphedema pump and DVT pump, TheraBand, knee brace, splints, orthosis, and prosthesis, etc.
➤ Cardiac Care: Our cardiac range of equipment includes ECG, infusion pump, etc which are important for people suffering from cardiac disease. Cardiac diagnostics are the key features of a cardiac range which include holster monitoring, ambulatory BP monitoring, and ECG.
➤ Wheelchair Facility: Wheelchair is the most extensively used device that helps one in mobility. It is mostly used by patients and the elderly for assisting them in carrying out there day to day chores. It helps in improving the quality of life. For effective mobility, one can ask for a wheelchair according to one's comfort. The different types of wheelchair available with us are manual and electrical. They are lightweight, agronomical, and easy to use.
What our Clients have to say
Frequently Asked Questions